H84 Non-residual VOID sticker for cell phone camera - red 20 x 20 mm
The special sticker developed to overlapping the camera lens of a cell phone to prevent unauthorized taking photos in defined space. The sticker fulfil the requirements for very fast application, reliable avoidance of a camera using, and a seamless removing with guarantee of leaving no residue on the overlapped surfaces. An essential feature is the VOID layer that indicates any attempt to uncover the lens by highlighting the words VOID on the peeled off sticker part. ... More
Product description
The special sticker developed to overlapping the camera lens of a cell phone to prevent unauthorized taking photos in defined space. The sticker fulfil the requirements for very fast application, reliable avoidance of a camera using, and a seamless removing with guarantee of leaving no residue on the overlapped surfaces. An essential feature is the VOID layer that indicates any attempt to uncover the lens by highlighting the words VOID on the peeled off sticker part. In the case of uncovering the lens during the security check, the following safety procedure can be triggered according to the set safety scenario. The typical examples of use are the excursions of a group people in objects where taking a photography is not allowed, such as high-tech automotive industries, nuclear power stations, security printing spaces and other places with increased security mode. The sticker can be printed with a corporate logo to maximize the security. The optimal security is also an incremental numbering of overlays. The sticker has very similar properties like the rest of the offered seals from the group of non-residual stickers. However, this seal is optimized for cell phones surface finishes (smooth and rugged plastic, anodised light alloys, etched surface …) and its function is guaranteed for all types of portable camera devices.
The special technology of VOID layer of this sticker guarantees the absence of residue after its removal and high adhesion even to problematic, not completely smooth surfaces. Unlike the other VOID stickers, this one does not separate when glued to the adhesive-retaining part attached to the substrate and to the top foil carrying the supplement of the revealed graphic motif. Although this sticker has very high adhesion to all types of surfaces, it does not leave any glue remains after removing. The glue consistency due to its cohesion is similar to gum, as can be seen from the pictures illustrating the tear-off of a sticker from the substrate. This also allows the application of the stickers to complicated surfaces, from which the hologram stickers can be too easily removed and there is no reveal of VOID layer texts.
When taking a photo through this foil, the resulting image is represented by a red surface (or blue or black according to the sticker colour). Only intense point sources in the form of a circle of a lighter shade of the colour can be noticeable.
Virtually all smart phones are equipped with two cameras – the rear and the front. Please do not forget to involve this to calculation of the number of pieces to be ordered, as to secure one cell phone, two stickers are required.
According to you order, the stickers can be printed by your specified texts, numbering or logo using thermos-transfer printing (the price is listed without the printing).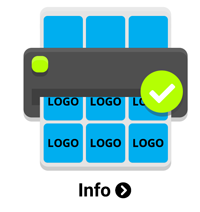 Additionally, we can produce the sticker in any size and black, red or blue colour. The minimum of pieces is 10 000 pcs.
For any printing, the price is calculated on request (kindly see Contacts)
Shape: a square with rounded corners
Dimension: 20 x 20 mm
Color: red diffuse(other colours to order)
| | |
| --- | --- |
| Colour | Red |
| Dimensions | 20mm x 20mm (0.787″ x 0.787″) |
| Financial costs | very low |
| Security base layer | VOID |
| Shape | Square |
| Security level | low |
| For cell phone cameras | YES |
| Void layer | Yes |
| Custom printing | Yes |
| Weight | 0.000093 kg |
Examples
Production manual