H479 Licence (serial) VOID labels, black with golden hologram, 50 x 20 mm
Highly elegant black residue seal labels with VOID base and golden master hologram on the edges to be used in ZEBRA or POSTEK thermal transfer printers to print serial numbers, production numbers, bar codes, QR codes, licences, manufacturer's emblems or warranty texts such as «void if opened» used for sealing boxes, packages, doors and others.
...
More
Product description
Labels are made in matt black colour; when peeled-off, a black VOID OPEN layer that is difficult to rub off remains on the base so it is evident that the seal was broken. The peeled-off sticker obviously does not bear this layer and is transparent where it is missing showing the negative of the VOID OPEN text. On the sides of the label, there is an excellent master (multi-layer) hologram on golden foil providing the label with an air of luxury. The hologram itself bears repetitive inscriptions confirming its authenticity – AUTHENTIC and CERTIFICATE and columns with kinetic (3D) circle and square. The hologram is hot stamped onto the label – it forms its integral part, it does not stand out and cannot be removed. The size of the label's hologram is 8 x 20 mm.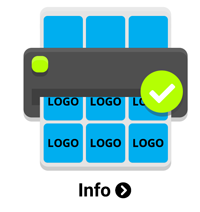 It is best printed with white, yellow, golden or silver colours (using thermal transfer printing). The label is provided on a reel; it is a continuous medium – 1 label per line, the liner has alignment perforation and can be easily printed on. If you are interested in custom-made print for your labels, do not hesitate to contact us.
| | |
| --- | --- |
| Colour | Gold, Black |
| Dimensions | 50mm x 20mm (1.969″ x 0.787″) |
| Security base layer | VOID |
| Shape | Rectangle |
| Security level | medium |
| Custom printing | Yes |
| Void layer | Yes |
| Weight | 0.00018 kg |
Examples
Production manual