H86 Non-residual master holographic circular labels
Non-destructive hologram sticker that allows you to peel it off without any damage and without leaving glue marks on the surface, where it was glued. Although the label is designed to tear it off without any difficulty, it shows an excellent adhesion to all types of surfaces. You can possibly slough it without any underlying layer damage even from many common papers and that is why it isn´t a security sticker, in the correct word meaning, as the destructive holograms are. ... More
Product description
Non-destructive hologram sticker that allows you to peel it off without any damage and without leaving glue marks on the surface, where it was glued. Although the label is designed to tear it off without any difficulty, it shows an excellent adhesion to all types of surfaces. You can possibly slough it without any underlying layer damage even from many common papers and that is why it isn´t a security sticker, in the correct word meaning, as the destructive holograms are. Unlike destructive holograms, this is not separated to the part staying glued with adhesive to the surface and the upper foil with the remains of aluminium layer after it is unsticked.
The label´s motive is created from master hologram consisting of tiny square points in different view layers equally distributed across the surface. The sticker may be primarily used for highlighting the information that needs to be forwarded before the first use of the marked item. It is perfect for all superficies, where its removal is required after fulfilment of the primary purpose. For this purpose, the print options are expected, and therefore the label is delivered on a roll with minted holes for printer´s optical sensor.
There is a possibility to print the sticker according to your own specific text, numbering or logo using thermos-transfer printing (the price is stated without the printing).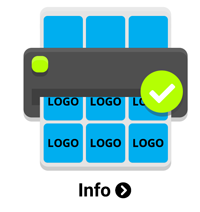 For possibly printing the price is calculated on request.
Shape: circle
Dimension: diameter 20 mm
| | |
| --- | --- |
| Dimension | 20mm (0.787″) |
| Colour | Silver |
| Financial costs | very low |
| Shape | Round |
| Security base layer | None |
| Security level | very low |
| Custom printing | Yes |
| Weight | 0.00009 kg |
Examples
Production manual