Product description
In principle, the transparent master hologram is a standard master hologram produced on a transparent hologram foil that holds a very thin transparent metallic layer the hologram master is stamped into. This label is invisible for most of the time; it does not cover the background layer and the only thing one can see is a gleaming surface. When inclined though, all the rainbow-coloured reflections of the hologram graphics come out. The transparent label does not provide a full expression of the rainbow-coloured reflection as a silver foil label (due to a lower content of metal in the foil) but it provides a more luxurious look as it does not cover the underlying design. As a rule, you can find transparent hologram labels on high-end luxury goods. A hologram master is the crème de la crème of holograms; labels with a complex graphic master are virtually counterfeit-proof.
Compared to single- or two-layered holograms, master holograms excel in their unlimited design options – you can choose the number of layers, colour transitions, kinetic (floating) effects and more. The master technology offers high resolution in order to record the finest lines or texts. Compared to the single- or two-layered labels, master holograms are significantly more expensive due to much higher technological and financial requirements on the manufacturing of stamping dies.
A hologram master is the template stamped into the metallic foil; it is a polished zinc sheet with countless microscopic embossed peaks and valleys creating the designed pattern during stamping. The price of a master is always defined on a case-by-case basis as it depends on the size of one hologram label and their number in a stamping template.
When producing the master, the final graphic design of a hologram is transformed into 256 shades of grey, not just 1 or 2 as it is the case for single- and two-layered holograms; each shade of grey represents a different hologram layer – a layer that will become visible at a specific observation angle. It is the transition between the shades of grey that will provide the graphic element animation effect. All the texts or logos may be situated at different areas of the label in different shades of grey so they will show or disappear at these areas at different observation angles thus creating the animation effect. The graphic design may be produced in colour; we will convert it to grey in the manufacturing process.
As concerns transparent security holograms, they can be produced just with the standard tamper evident protection – with incidental destruction when tampered with. If peeled off, some residual glue with a part of the hologram will remain on the surface while the rest will go off (randomly) with the peeled-off transparent foil. The part of the hologram that stays stuck to the surface is almost immediately rubbed off. Transparent security holograms may also be produced as removable – non-residual (without protection); such security holograms are best used on products where a hologram needs to be removed easily and completely – e.g. on glass or plastic materials.
Transparent holograms may be numbered using surface thermal transfer printing in a chosen colour; laser printing would not be visible.
The maximum size of the hologram that can be made is 100x100mm.
Label shape
We are able to produce hologram labels in any shape. Square, rectangular, round and oval are the basic ones requiring no specific or custom-made stamping dies to be produced. If you want to have a label in your own shape (such as the shape of your logo), expect an extra charge to cover the production of the stamping die. In case of square and rectangular holograms, the corners must be rounded with a radius of at least 0.5 mm for a correct cut-out.
Hologram numbering
Upon request, all labels produced may be numbered providing another level of security. Numbers may be printed by thermal transfer.
Glue
Standard glue is suitable for smooth surfaces such as glass, smooth plastic and metal. Strong glue is stronger, has higher substance density and holds labels on structured and grainy surfaces – such as metallic and plastic vehicle frames.
Hologram printing
For an extra charge, we also offer additional printing on hologram labels with any graphic design. We create a "mask" that covers the hologram which then works in the background.

| | |
| --- | --- |
| Glue | Standard, Stronger |
| Numbering | None, Thermotransfer numbering |
| Shape | Square, Rectangle, Round, Oval, Other |
| Weight | 0.00001 kg |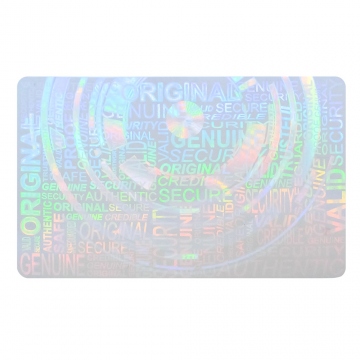 Graphic design
Do you want to provide your own graphic design for holograms? Not difficult at all. Holograms are manufactured based on vector file data (lines) provided in the following formats - *
.ai .cdr .eps .pdf
. We prefer data in Adobe Illustrator (.ai) or Corel Draw (.cdr).
The master hologram design is virtually unlimited in terms of colours used. Each colour represents one layer of the hologram and data in different colours may overlap. A very interesting rainbow effect on the final hologram is created with colour transitions. The more colours you use in the design, the livelier the master hologram is. You can also create kinetic image effects that make the hologram graphics move when inclined.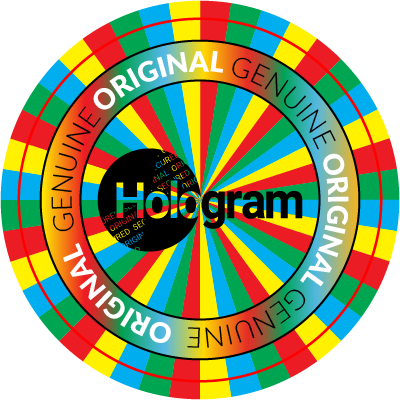 The design must be provided with a crop line - pre-defined trim marks (in red or magenta, max. thickness of 0.15 pt); if the graphic data touch the crop line, they must overlap by at least 2 mm (catchment area) as it is impossible to manufacture and cut out a hologram without a minimum deviation. In terms of shapes, holograms cannot be cut with too sharp edges – the corner radius of any square or rectangular stickers must be 0.5 mm at least. Do not create any trim marks (just crop line) and if you use any font in your design, it must be transformed into a curve (non-modifiable font) or it could be substituted.
Master transparent hologram manufacturing chart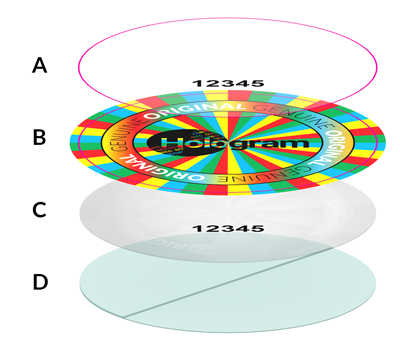 A1) Serial numbers
It is possible to number each security hologram for an extra charge, using thermal transfer print. Serial numbers are printed in ink on the top protective foil of the sticker.
A2) Hologram printing
We can also print in colour on hologram stickers (screen or thermal transfer printing). Hence, you can have your logo printed on the protective foil of the hologram covering its part (mask). You can pick any colour, no colour transitions though.
B) Master hologram
Hologram graphic design.
C) Transparent carrier foil
D) Glue
We offer two types of glue – a standard glue suitable for all smooth and de-greased surfaces such as paper, glass or flat surfaces or strong glue that holds security holograms even on roughened surfaces such as rough plastic or powder coated (comaxit) surfaces.
Placing an order
I.
Follow the instructions and create your own digital graphic design or we can create a graphic design of the hologram master for you based on your specifications. In the latter case, a clearly formulated verbal description of your expectations (including the size and shape of the label) is sufficient, it can also be accompanied by bitmap images of company logos, trademarks or any other images you would want to see on your hologram. Should the design be more complex, you can draw your ideas by hand on a piece of paper to make the visualisation easier and send a scan or photo it to us. We are charging from ca. 8€ for simple vector graphic files prepared according to your ideas to ca. 40€ for more complex graphic designs. Please, do not forget to provide us with the visualisation of all layers if you prefer multi-layer holograms. If you need any advice when creating your label design, we are available for any enquiries at phone numbers and addresses listed in the Contact section.
II.
Once we receive your order, we either validate the received vector design or we create it based on your requirements. If you asked us to prepare the graphic design for you, we will send you by e-mail the graphic design as a bitmap image for assessment. We usually create more versions of the graphic design so you can pick the one that suits your purposes best. Your comments to the design preview or any requirements to add further text or graphic elements are quickly addressed and you will get the design back for re-assessment. This process will be repeated until you are completely happy with the graphic look of the design.
Production price per piece is defined immediately after your design is accepted and after you inform us about the number of pieces to produce. You can select or change the self-adhesive medium at this stage as the base is not linked in any way to the hologram picture design. If you decide to select the "Tamper evident film", i.e. "VOID" base, please inform us about the word you would like to see when the label is tampered with (see the word options). Besides the pre-manufactured films with selective peel-off options, we can produce the base material with any word or symbol based on your request; a custom-made self-destructive film is obviously more costly.
At the end of this stage, a confirmation of the final graphic design of the holographic tag, label, sticker or seal is issued – based on order specifications. The customer explicitly approves the visual design, quantity and price thus creating a firm order to produce the ordered items. A firm order represents a contract for work for the approved graphic design, quantity, materials and price. It may be impossible to change the graphic design, type or quantity of pieces once the order is firm – it always depends on the production process.
III.
Once the acts described in Art. II here above are mutually agreed, we will produce the requested quantity of security self-adhesive items according to the specifications you have approved (design, quantity, properties and price). Unless specified otherwise, the order is usually completed within Day 15 to Day 30 from the firm order date.
Transparent master hologram with custom design