Product description
When printing a standard holographic self-adhesive sticker, all areas of your graphical draft design apart from the text and graphics are left in the final look as untouched optical reflection areas which color is given by your choice of a film. A sticker made this way always covers the areas it is applied onto completely and enables reading of the texts or recognizing the pictures on which it is eventually pasted to. If these characteristics are not wanted in your application, you can choose a transparent hologram. All areas defined as texts, symbols, logos and pictures take their places in defined layers and other areas of the sticker will be completely transparent, therefore translucent. In these areas of the sticker there will be no reflective metallic layer on the self-adhesive translucent film. Areas that create graphical items of individual holographic layers are semi permeable and most of the time invisible from a view perpendicular to the sticker's surface. After rotating to other angle individual holographic layers are very easily observable and create distinctive color crossings. Pasting the transparent hologram onto a picture or a text does not affect it readability and does not act disturbingly even though it is very recognizable and visible from different angles. These exact characteristics make it suitable for every place where the presence of a holographic security item should not act disturbingly and should not be used for the advertisement. This type of a hologram is appropriate for pasting onto the corner of a photograph in every card that contain a photograph – ID card, driving license, passport, employees card etc. They can be applied everywhere, including a text or a picture, without disturbing its readability.
The metallic layer of this type of a hologram is always silver and the self-adhesive film is translucent, without color touch-tinge. You can use all other options for the final look of your stickers as it is written in section Your Draft Design.
Single Layered Transparent Holographic Sticker
This is a self-adhesive sticker on a transparent translucent film with a graphical motive in one layer. Metallic layer for the holographic stamping is aluminum and therefore the reflection area is silver. Graphical pattern is schemed out the same way as in case of a classic single layered hologram.
The maximum size of the hologram that can be made is 100x100mm.
Label shape
We are able to produce hologram labels in any shape. Square, rectangular, round and oval are the basic ones requiring no specific or custom-made stamping dies to be produced. If you want to have a label in your own shape (such as the shape of your logo), expect an extra charge to cover the production of the stamping die. In case of square and rectangular holograms, the corners must be rounded with a radius of at least 0.5 mm for a correct cut-out.
Hologram numbering
Upon request, all labels produced may be numbered providing another level of security. Numbers may be printed by thermal transfer.
Glue
Standard glue is suitable for smooth surfaces such as glass, smooth plastic and metal. Strong glue is stronger, has higher substance density and holds labels on structured and grainy surfaces – such as metallic and plastic vehicle frames.
Hologram printing
For an extra charge, we also offer additional printing on hologram labels with any graphic design. We create a "mask" that covers the hologram which then works in the background.

| | |
| --- | --- |
| Shape | Square, Rectangle, Circle, Oval, Custom |
| Numbering | None, Thermotransfer numbering |
| Glue | Standard, Stronger |
| Weight | 0.00001 kg |
Graphic design
Do you want to provide your own graphic design for holograms? Not difficult at all. Holograms are manufactured based on vector file data (lines) provided in the following formats - *
.ai .cdr .eps .pdf
. We prefer data in Adobe Illustrator (.ai) or Corel Draw (.cdr).
Graphic data size must correspond (in mm) to the exact size of the hologram produced. The hologram graphics must be done in black, with no colour transition and with crop lines – pre-defined trim marks (in red or magenta, max. thickness of 0.15 pt); if the graphic data touch the crop line, they must overlap by at least 2 mm (catchment area) as it is impossible to manufacture and cut out a hologram without a minimum deviation. In terms of shapes, holograms cannot be cut with too sharp edges – the corner radius of any square or rectangular stickers must be 0.5 mm at least. Do not create any trim marks (just crop line) and if you use any font in your design, it must be transformed into a curve (non-modifiable font) or it could be substituted.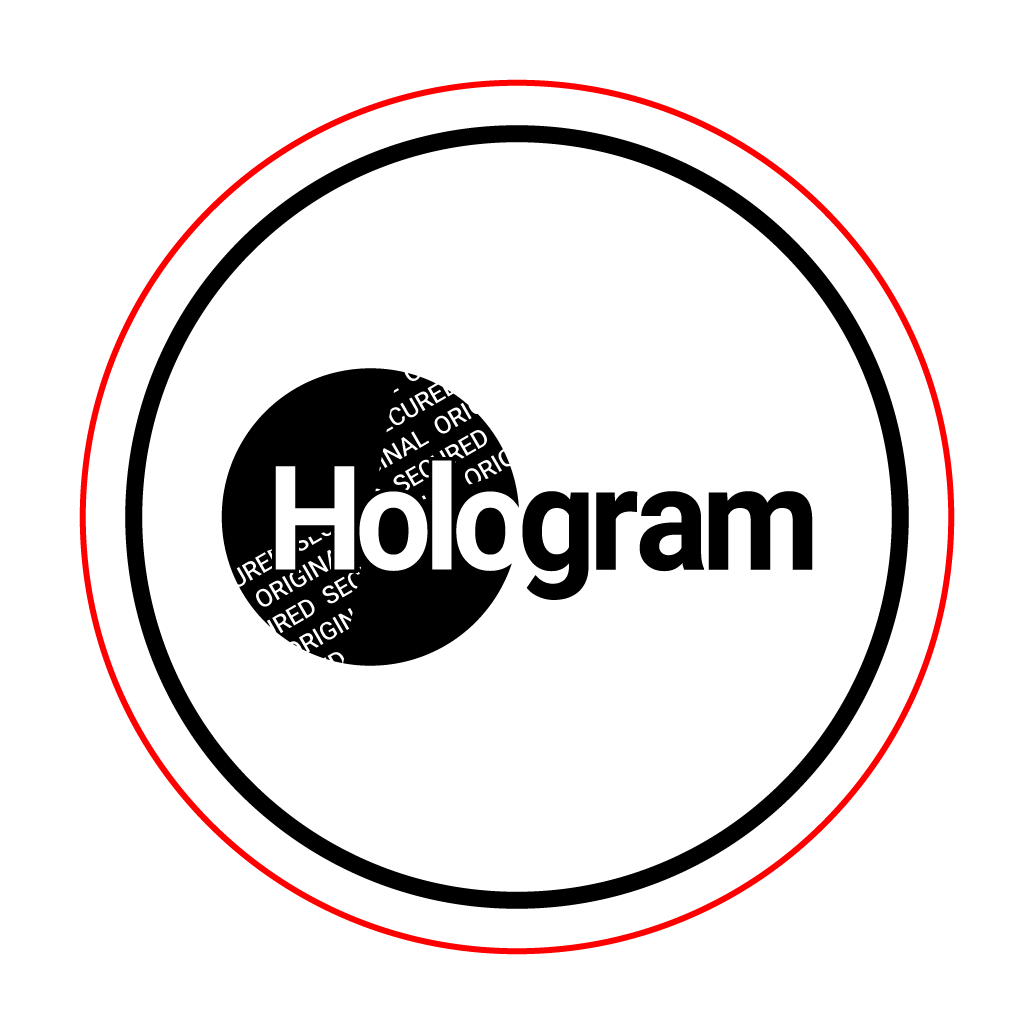 Single-layer transparent hologram manufacturing chart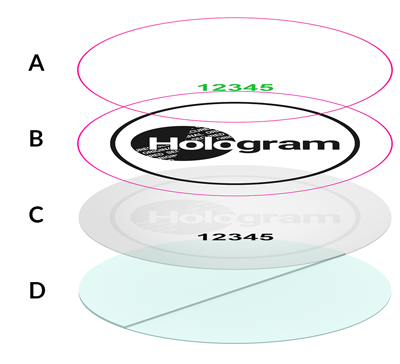 A1) Serial numbers
It is possible to number each security hologram for an extra charge, using thermal transfer print. Serial numbers are printed in ink on the top protective foil of the sticker.
A2) Hologram printing
We can also print in colour on hologram stickers (screen or thermal transfer printing). Hence, you can have your logo printed on the protective foil of the hologram covering its part (mask). You can pick any colour, no colour transitions though.
B) Hologram design
Hologram graphic design (one layer)
C) Transparent carrier foil
D) Glue
We offer two types of glue – a standard glue suitable for all smooth and de-greased surfaces such as paper, glass or flat surfaces or strong glue that holds security holograms even on roughened surfaces such as rough plastic or powder coated (comaxit) surfaces.
Transparent single layer hologram with custom design