Product description
Plastic self-adhesive security seals and films are used wherever the holographic film is not suitable in conditions of adhesivity. Vinyl labels are greatly suitable for sealing those parts of a repaired appliance which needs to be prevented from unauthorized openning. Refrangible plastic film is in general more suitable as a label onto the holes for screws on chassis of mobile phones and electronic appliances because holographic seal would in these cases be sticked only on the edges and that increases a possibility of a successful unsticking without a holographic drawing damaging. Preventing a hologram from unrecognized ripping off needs sticking as much metallic layer area as possible and that is unrealistic in case of bigger holes or spaces between them. Self-adhesive vinyl basal film used for printin plastic security films is characterized for a very high tearability when trying to ripp off or unstick the label. This characteristics does not require the label to be sticked by the whole area, it will always be needed to unstick it by individual parts as it breaks. In addition, it shows a better adhesivity to rough surfaces where holograms did not have to reach expected degree of prevention from usticking without damaging.
Minimum size 3x3mm - circle, square, ...
Maximum 2 colors
Your design
| | |
| --- | --- |
| Shape | Square, Rectangle, Round, Oval, Other |
| Weight | 0.00001 kg |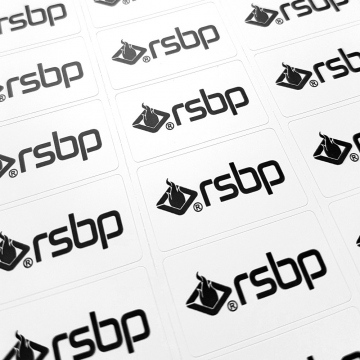 Guide for customers' vinyl stickers production
I.
The presumption for a correct understanding of points stated below is knowledge of basic printing media characteristics – those are used for the production of a plastic unstickable label. If you have no experience with these VOID stickers, we recommend you to shortly familiarize with their characteristics and options for usage here, here and in a technical specification of the used film ORACAL 820 Safety Vinyl, which is also called a "bank paper".
To prepare an order of the self-adhesive stickers on a plastic film production you need to give us your requirements for its graphical form. If this visual form of stickers is not complete and exact yet, think of these points in particular, before contacting us with your layout:
size of the sticker
shape of the sticker
what texts, pictures or logos will be printed onto the hologram
number of colours used – one or two colours for printing
choice of coulours – arbitrary, not bounded by the pallete
approximate number of holograms
colour of the printing film is always white and therefore is not the object of choice, as a printing medium a security PVC film ORACAL 820 Safety Vinyl
Shape of the sticker will be given by the pre-cutting of the film by a cutting plotter according to your design. Theoretically, the shape is arbitrary, practically it is necessary for the cut sticker to be removable from the basal bearing layer and stickable to the planned place. Using long thin shapes or even its combination will surely not add to its easier manipulation. For this reason we recommend to choose from these shapes: elipse, oval, square or rectangle, square or rectangle with round corners, triangle, n-angle and similar regular shapes. Stickers will be printed onto A4 size, one close to the other. Number of stickers produced on one sheet will naturally depend on their size of the repeated pattern and can be easily counted by the fraction of its size and A4 format. The smallest size you can use when designing your pattern is 3 mm. The smallest square PVC sticker is 3x3 mm big and the smallest possible sticker is a circle with the diameter of 3 mm. Even with these sizes you do not have to worry about the readability of printed texts or wrong sticker cutting. Circular stickers of these exact sizes are used as cautionary seals for sticking unto the tops of screws. Maximal size of the sticker is limited by A4 size.
The fact that it is not possible to use PVC film in other than white colour does not mean the graphic and texts cannot be printed onto e.g. green or yellow basis. However, you need to understand that one layer is needed for the chosen basis colour. The predesign is then always concipated as two coloured where the first layer is defined by the colour of the filling and the second one depicts the graphics and texts in another colour. PVC film printing is done by the graphical technique of screen printing in all cases.
II.
According to point I. create directly your own digital graphic pattern – the file in a vector format (it would be best if it was Corel Draw – CDR or Encapsulated PostScript – EPS) with a text converted to curves so there will be no font exchange. The second option is that we will create a pattern of holographic master production for you according to a specified graphical form of holographic etiquette that you have created. In this case a clearly stated description of you idea (including the size and shape) put in words is enough. You can also add bitmap pictures of company logos, brands or any pictures you want to present in your hologram. In cases of more complicated designs you can draw your idea on a paper and send us a scanned picture or a photograph for an easier visualization. For creating a vector graphical file according to your ideas we charge app. £8 when it an easier pattern and app. £40 when it is more complicated. With multilayered holograms please remember the necessity of a design to have a visual form of every layer – you can find more about this topic after clickinng on individual types of holograms on the left side under the button "Your predesign", e.g.: PVC seal design demonstration. Please send your graphical motives or completed vector patterns by an email. You can contact us on numbers and addressess given in contacs, we are available for you when you need to ask questions before or during the sticker's graphics designing.
III.
After receiving your order we either make valid the sent vector design or its creation according to your requirements. If you entrust us to make a graphic design we will send it to you by an email as a bitmap to review it. We mostly firstly create a few graphical options to make choosing the most suitable one easier. Your comments to this design or your requests to add another texts or graphical items will be promptly realized and sent again for a review. This process will be repeated until you are fully satisfied with the graphical design.
Custom-made production - self-adhesive stickers are produced in 15 to 30 days from the date of production layout, more accurate date is known at the moment of your order confirmation. Price for production is not stated according to number of printed sheets but according to number of ordered stickers. Minimal taking is 1000 pieces, higher numbers in thousands. Orientative price list. Minimal size of stickers produced this way is 3x3 mm, let us say a circle with a diameter of 3 mm.
This phase is finished by approving the final graphical version of holographic label, etiquette, self-adhesive sticker or seal –according to the specific order. The explicit affirming of a visual form, number of pieces and the price from the customer's side is a binding order for the products commodity production. The affirmed order establishes a legal relation of a contract to the production of the approved graphical predesign, the number of pieces,realization and the price. Changes in graphical predesign, type or number of pieces after making the contract may not be possible – depending on the phase of the production process.
IV.
After mutual agreement based on facts stated in section III., we create the requested security self-adhesive items according to parameters you approved - the look, the number, the stated characteristics and the price. If not stated otherwise, the order is finished in 10 to 14 days after making it. It is possible to request an express printing of self-adhesive stickers in shorter time for an additional charge. After its produciton is finished, it is available in our office or sent by the transfer services to the address you stated.
Vinyl self-adhesive label - your design