Product description
The sealing wax stamp is manufactured upon your customized design. The sealing stamp is produced from brass and embedded into the handle. The sealing stamp is designed to be used with hot wax to imprint the stamp as it was used for many centuries since medieval times. In order to open the document or the package the stamp has to be physically broken and destroyed what indicates the unauthorized reading of the document or viewing the content of a package. The sealing stamp was for the centuries a mean of identification and identity reflected in the graphic design of the stamp. There is the possibility to transfer the logo and/or signature of your company onto the sealing wax stamp.
Seal wax stamping is an ancient method but even in today society it has its meaning and position. Not only has it had the decorative aspect and a sign of luxury statement for the tradition but also a vast range of security usage to protect from unauthorized entry into various boxes or locks. The distinctive characteristics of the hot sealing wax are used for the protection where the wax seals all the gaps and openings of a sealed object. The wax acts as a mechanical barrier when the entry is by force and unauthorized. Mechanical characteristics of sealing wax differ from the regular candle wax in these main properties: the volume and the higher melting point. The seal from this type of a wax is quite strong and requires a certain amount of force to break it; this secures the possibility of an accidental breakage. The hot sealing wax can be also used to protect from unauthorized manipulation of screws if applied on top of the bolt. Nowadays wax is labeled as Spanish sealing wax and consists of a wax mixture, silica, and oils.
The seal stamp is round and the entire area of 25 mm or 30 mm radius can be used for the customized design. The customized 2D design will be engraved into the seal. The seal, is as well as the dry stamping, a three dimensional security feature, which provides protection against counterfeiting, illegal copying, and nontransferable identification of documents and mechanical barrier against unauthorized entry. The design of a seal wax stamp is the same as the design for a dry stamping and/or single-layered hologram. The seal stamp is manufactured from the graphic design send to us in the vector application. Based on the design the image is engraved into the stamp.
The set includes sealing wax stamp embedded in a handle of 75 mm length, three wax sticks each 9g (red, black, and silver). The color represents the color of the whole wax stick from inside out. The set also includes a small metal cup for heating up the wax, and two tea candles. The seal wax come in all colors, including gold, and we keep them on stock.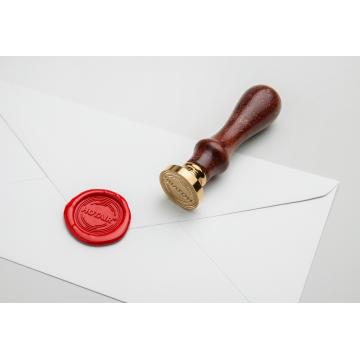 PS25 Wax Seal Stamp Set 25mm