H54 Blue non-residue rectangular VOID sticker with high adhesion
We offers a high performance durable polyester label / seal that detects tampering without leaving any type of adhesive residue on the surface where is applied. This particular seal protects intruders from valuables or access to high priced or delicate items, confidential information or cabinets. The tamper indicating provide a "VOID" message just on the seal but not in the surface when removal is attempted; you'll instantly know if someone peeled this security seal off. ... More
Product description
We offers a high performance durable polyester label / seal that detects tampering without leaving any type of adhesive residue on the surface where is applied. This particular seal protects intruders from valuables or access to high priced or delicate items, confidential information or cabinets. The tamper indicating provide a "VOID" message just on the seal but not in the surface when removal is attempted; you'll instantly know if someone peeled this security seal off. Labels are available in red and blue color.
The patented adhesive is designed to use it to hold screen protector covers from new electronic screen devices like monitors, TV's and Cell Phone Screens, ensure new cell phone batteries before are used, hospital medicine cabinet access, police department evidence room and file control, cashier drawer access, etc…
Our non-residue tamper evident security feature works immediately on most porous and non-porous surfaces after applied. This laboratory-engineered label can be applied on: Glass, Aluminum, Stainless Steel, powder coated metal, most plastics, paper, wood, printed circuits, etc…
Non Residue Tamper Evident
Custom printable
Cannot be resealed
Self Voiding
Outstanding performance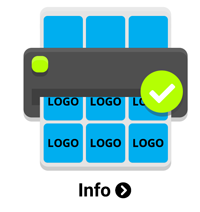 Label features:
Permanent pen ink hand writable
Can be numbered and/or personalized
Can be fold in two side product without delaminating
Applies in seconds, impossible to tamper or modify
Adheres immediately over almost any surface
High quality, durable and strong material
"VOID" pattern when removed
Dimensios 60 x 20 mm
Color: blue
Service temperature -65 Deg F. to +180 Deg F
For eventual printing is calculated on request.
| | |
| --- | --- |
| Colour | Blue |
| Dimensions | 60mm x 20mm (2.362″ x 0.787″) |
| Security base layer | VOID |
| Financial costs | very low |
| Security level | low |
| Shape | Rectangle |
| For cell phone cameras | NO |
| Custom printing | Yes |
| Void layer | Yes |
| Weight | 0.000278 kg |
Examples
Production manual