Product description
Cheapest option of embossing plates using bronze die easily portable and compact spirited mechanism. Compared to steel, bronze die is of course slightly less durable, but only during extrusion to paper is its almost unlimited service life. Regarding the subtleties of artwork that you can use in graphic design for engraving bronze dies, it is possible it is therefore considered equivalent. The difference lies in the depth of engraving, which is smaller in the bronze matrix (smallest is due to the maximum resolution in copper die). If you require a very significant relief or stamping of thick or solid materials, will be best suited die steel. Engraving in bronze hooves,although shallower, but is free tapered leading edges of each carved lines. This fact has very beneficial in embossed punch into thin materials, especially in the paper, which looks like embossing and engraving with less depth very recisely defined and relief is significant (see last picture).

Pressing mechanism is designed so that it can be easily transferred. As shown in the photographs of the product, the proper pair of complementary dies removable and therefore if there you have more, you will transmit only one lever adapter; replacement is a snap.

For a more complete comparison with the other two types of dry excavation, ie steel and copper plate is necessary to summarize this bronze plate can not be rotated. Orientation (by the top, bottom,right or left edge of the paper) must be specified when ordering, then it will not change. This is no different from blind embossing with a copper matrix. On the contrary, this option provides system with die steel. Diameter of circular bronze plate for engraving is 40 mm, the same as in the case of the steel type. For the most universal type of die steel is considered to be due to the possibility to fingerprint the widest range (especially thickness and stiffness) materials; during the excavation to regular weight paper may not apply excessive force to the lever mechanism punch as it could be torn paper. This phenomenon is the deep embossing die which is necessary as a reserve for eventual impression to thick sheets. The described does not apply to blind bronze and copper, in which it is possible to always use the full stick force without the risk of defects in the place of the impression. Bronze dies can be applied with a guaranteed result only in paper with weights up to 80 g / mxm, a plain paper. Results impression in paper weight 120 g / mxm only satisfactory in the case of higher weights no longer useful. The other two systems are compared succeed; steel due to deep motive and copper due to significantly higher contact force given the large lever robust print mechanism. Weight interchangeable die block is about 140 g. Weight linkage without retracting the punch is 200 grams.

Graphic design for this type of dry seals the same rules as for versions with other types of punches, a vector-described graphic design (Corel, etc.). On the surface of the die can be used for both text and any graphic image.
| | |
| --- | --- |
| Embossing direction | bottom up, top down, left to right, right to left |
| Weight | 0.3431 kg |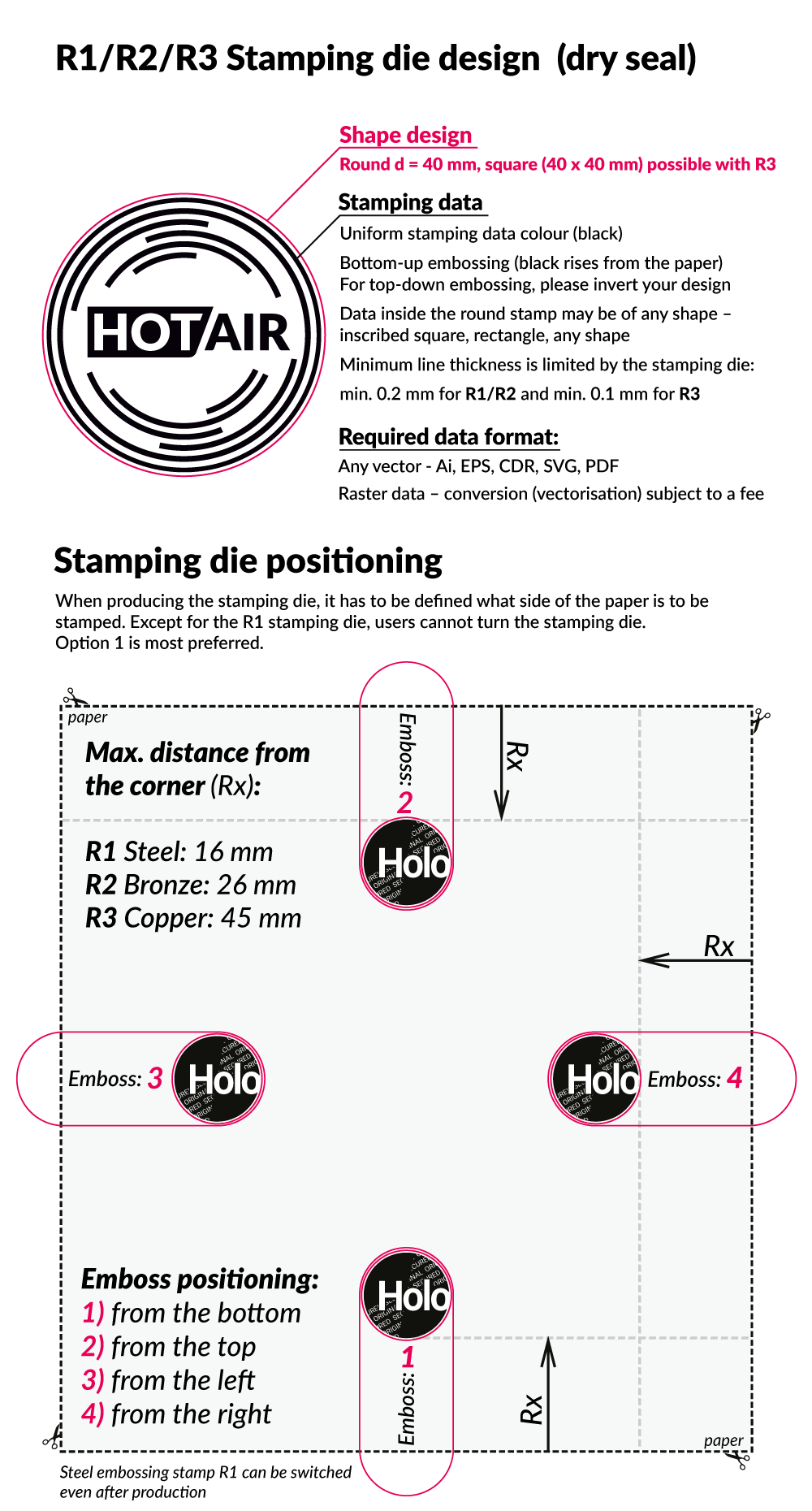 R2 Bronze embossing plates