Product description
Some customer graphical predesigns aimed for a plastic printing with the help of a blind impress caontain too small details nad it is not possible to engrave them into the steel stamping die. The reason is using a more masive adapter of a mechanided miller for steel engraving. It is needed to choose another option of a lever impress and a different material for the die preparation when the predesigns are graphically more complicated. Copper seems to be a suitable material because of its easy tooling and a long-term durability. We can put even the finest lines and small texts of your predesigns onto the copper area of a stamping die.

It is required to put a higher pressure onto the stamping tool when impressing fine lines on an areas of an imprint labeled paper than in case of steel imprints. That is because the stamping die cannot be engraved into that depth considering the details density and cavities are more shallow. For this exact reason of a higher impress powers requierment, this stamping die version is set into a different stamping machine that is equipped for a simpler usage by a considerably longeri impress lever comparing to the first version. Gobally, the construction of a handheld press is of a more masive character, it is made of a cast metal and it will not get lost on the table. Decent realization is in place becasue of the perfect printing of a detailed and fine graphics into the high-weight papers (>250g/m) requires a stronger lever pressure. Stamping die's diameter is 45 mm (printable area has 40 mm in diameter), the parameters of a lever press are 195 mm long, 85 mm wide and 140 mm high. The length of a lever is 215 mm. Weight of the press is fewer than 5 kg.

For designing this type of a dry impress , the same rules as for above mentioned steel stamping die version apply- therefore a vectorally described graphical predesign (COREL etc). You can use texts or also an arbitrary graphical schemas can be used on the stamping die area. The necessity of a copper stamping die can be confirmed thanks to the high diversity of a predesign only after looking at your predesign sent to us. For a better idea we recommed you to look at a photogrph of a stamping die at the above mentioned steel pastic type. For example, in case of densing the letters in word "Ostrava" a limit of a diversity of this type of a stamping die is reached. Smaller letters would require changing into a copper die production. On the other hand, you can notice the sample pictures of a printed imprint of a town Usti nad Orlici made by a copper die under this text . You can see much finer lines e.g. between the roof and the walls. This technology has no problem with making these.
| | |
| --- | --- |
| Embossing direction | bottom up, top down, left to right, right to left |
| Select size | round 40 mm, square 40x40 mm |
| Weight | 4 kg |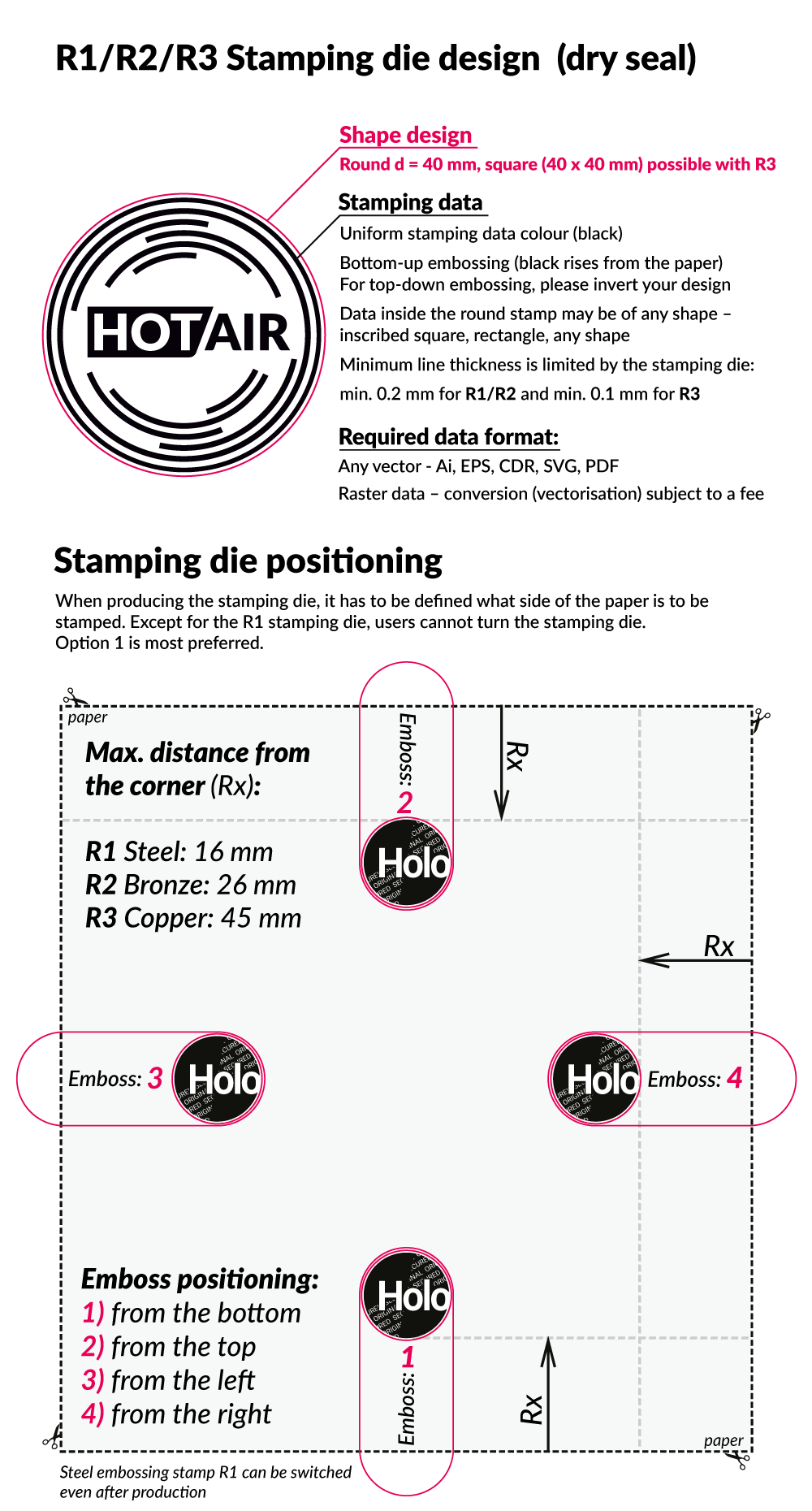 R3 Copper embossing plates