H372 Green non-residual rectangular VOID sticker with high adhesion 100x25mm
The special technology of the VOID layer of this sticker guarantees the absence of residue after its removal and high adhesion even to problematic, not completely smooth surfaces. Unlike the other VOID stickers, this one does not separate when glued to the adhesive-retaining part attached to the substrate and to the top foil carrying the supplement of the revealed graphic motif. Although this sticker has very high adhesion to all types of surfaces, it does not leave any glue remains after removing. ...
More
Product description
The glue consistency due to its cohesion is similar to gum, as can be seen from the pictures illustrating the tear-off of a sticker from the substrate. This, above all, also allows the application of the stickers to complicated surfaces, from which the hologram stickers can be too easily removed and there is no reveal of VOID layer texts.
The sticker is primarily designed to overlap the places that access the secured object. The typical example is an overlay over the box, where must be removed to unpack it. The "VOID" and "OPEN" texts are revealed when the label is removed so the package opening is clearly visible. A very advantageous feature is preserving the sealing capabilities of the seal even after it has been folded (compared to the hologram VOID stickers).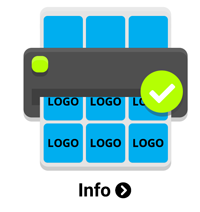 According to your order, the stickers can be printed by your specified texts, numbering or logo using thermo-transfer printing (the price is listed without the printing).
For possible printing the pricing is to be requested (kindly see Contacts).
| | |
| --- | --- |
| Dimensions (mm) | 100 x 20 mm |
| Color | Green |
| Glue | Stronger |
| Security level | low |
| Financial expenses | very low |
| Shape | Rectangle |
| Void layer | Yes |
| Security background | VOID |
| For cell phones camera | NO |
| Custom printing | yes |
| Weight | 0.048 kg |
Examples
Production manual