H484 Vinyl seal label to be printed on - white 50 x 20 mm
White rectangular vinyl security label – a seal that we can print on at will using thermal transfer printing in any colour you pick.
...
More
Product description
A strong glue guarantees high adhesion that the seal gets destroyed even if the attempt to remove it is very careful; also, the vinyl is a very flexible material – it would not break if bent (this does not apply for sharp edges) but would not last in tension or shear – it breaks quicker than a thin sheet of paper so any attempt to remove the label or to transplant it is unfeasible. This pays off in particular when sticking serial numbers, licences, sealing boxes – chassis (only non-moving parts), covering screw openings etc. The size (50 x 20) is ideal for bar code printing (code 128). The label can be easily written on with a regular pen that does not get rubbed off. It can be signed and placed on.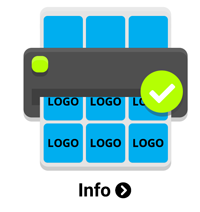 Labels are on a reel in one column, one by one, ready to be printed on in thermal transfer printers Zebra or Postek. Other dimensions can be custom-made too.
Upon request, we can do the printing.
| | |
| --- | --- |
| Colour | White |
| Dimensions | 50mm x 20mm (1.969″ x 0.787″) |
| Shape | Rectangle |
| Custom printing | Yes |
| Security base layer | Vinyl |
| Weight | 0.00026 kg |
Examples
Production manual