Product description
Calibration (burning) die (stamp) with your own design – logo, emblem, graphics or just simple text with maximum size of 50x20 mms or 30x30 mms.
Your motif is custom-molded into brass, and this way made stamp is connected to a micro solder with a temperature control as a firing spike. The micro solder has the temperature control in a range of 200 – 450°C, there are temperatures in the range of 100-200°C in the die itself. The heating is quite quick – approximately 1 minute. The die temperature is sufficient for leather stamping – for example for burning a logo, for plastic stamping, it is ideal for original sealing of all PP/PVC/PE plastic bags, it is also suitable for original hot stamping. There is a possibility to use it for game marking. For wood burning, we recommend you to choose more efficient and advanced
R5 hot stamping – 350Ws (50x70mms)
.
The supplied graphic design, for the stamp production have to be in vector graphics (curves) in *.AI, PDF, EPS and CDR format, in the exact size of the stamp. The smallest recommended line thickness is 0.5mms. If you are not much experienced in graphic software, we will make the graphic designs for you based on your own wishes (for a small surcharge). • Power supply: AC 230V
• Micro solder control: 200 - 450°C
• Micro solder power: 60W
• Cable length: 135cm
Manufacturing instructions
The underlying documentation must always be provided in the following graphics file formats (*
.ai .cdr .eps .svg .pdf
), ideally in the exact size of the produced hologram. Mark the logo limits represented by the brass stamping block. It is important to add at least 2 millimetres on every side.
The final manufacturing design should look like the picture below. The areas marked in black stand out and will stamp the design; the white ones will be cut (not stamping). The spacing of individual lines should correspond to the material the graphic design is to be stamped into. Even if the level of detail may be very high, it always depends on the material to be stamped (burnt). In case of wood, larger spacing of lines is recommended so they do not fuse together (0.5 mm at least). With leather, line spacing could be smaller, down to 0.25 mm, which really is not restricting at all – see the stamping specimen in our Product Gallery.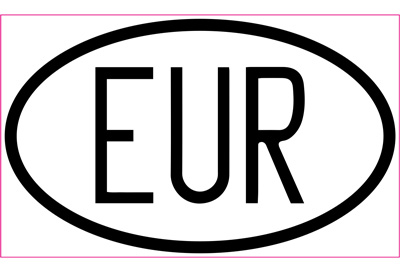 If your data are not in a vector file format, you can send the design in a data raster too - .jpg, .jpeg, .png, .gif, .tiff in a sufficient size (600 x 600 px at least). Data sent in this format must be transformed into a vector file format and hence we will charge you a fee for the work of our graphic designer – based on time requirements (up to CZK 500 as a rule). The larger the picture is, the cheaper the subsequent vector conversion will be. Pictures of a smaller size may only be considered as artwork to create the respective design. The price of graphic work in those cases is set on a case-by-case basis (you will be informed about the price in advance). Multiple colour pictures must be transformed into black-and-white, i.e. all shading, colour transitions and other detail may get lost; it is also possible to go for contour lines and remove all the filling.

If you have no design to provide, you can have your graphics designed by our graphic designer. The artwork may be just a rough drawing or a text description. Our graphic designer's imagination is not limited.
R4 Burning die for leather and plastic stamping with custom logo (design)