Product description
A mobile brand stamping device with your own design – a logo, a shield, graphics or just a text that we will custom mill into the brass stamping plate. This stamping device works with an adapter connected to a Czech-made gas Meva Typhoon 100P blowtorch nozzle that will heat the stamping plate up to its working temperature in a very short time (in 2 minutes roughly). This blowtorch is used with standardized gas piercing cartridges that we always keep in stock or that can be bought in any DIY store. The blowtorch is operated by a piezoelectric lighter and a gas flow controller. The blowtorch is mobile and independent on power supply.
Bee hive and hive frame branding for bee keepers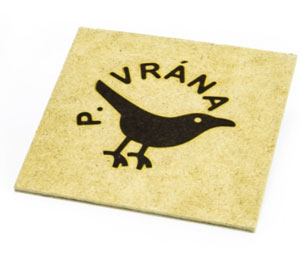 It is also good to register your brand mark in the database at
www.psnv.cz
where you can check the already registered brand marks to design an original one for yourself.
The branding stamp can also be used for stamping leather (bags, saddles, belts, wallets, cattle, BDSM,...) or wood (used by joiners, carpenters, cabinet makers, or coopers) and can be used to produce promotional items, to brand Euro pallets with a producer's or owner's logo or to for many others.
The graphic design for the stamping device can be provided as a round shape diameter 80 mm. The final stamp will always be either square or round. The logo in the stamp can be of any dimensions and shapes - even 10 x 10 mm, but the plate must be of the above stated size and shape. When preparing your graphics, do not use thin lines too close to one another as they may "merge" into one during stamping and the detail would not be visible. The recommended spacing between individual lines is at least 1 mm (but ideally 2+ mm). If you do not have your own design, you can use our graphic designer's services. We are able to produce the stamp in 8 to 15 days from the graphic design approval.
The stamping surface is made of 15mm brass, of which the stamping plate is 12 mm thick and the customer's graphic design is 3 mm thick. So the graphic design is 3 mm deep. Unlike that of iron or stainless steel, thermal conductivity of brass is very good and the heat quickly spreads over the entire surface. Also, brass does not get rusty.
The delivery includes a gas brass stamping device with a nozzle adapter, a Meva Typhoon 100P gas blowtorch and one gas cartridge. Spare
gas cartridges
and a
gas solder
can be purchased in our e-shop at Hotair.cz.
Operation time per cartridge: ca. 1h30min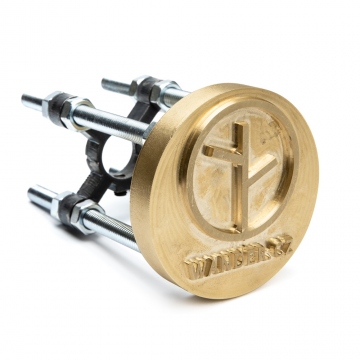 Manufacturing instructions
The underlying documentation must always be provided in the following graphics file formats (*
.ai .cdr .eps .svg .pdf
), ideally in the exact size of the produced hologram. Mark the logo limits represented by the brass stamping block. It is important to add at least 2 millimetres on every side.
The final manufacturing design should look like the picture below. The areas marked in black stand out and will stamp the design; the white ones will be cut (not stamping). The spacing of individual lines should correspond to the material the graphic design is to be stamped into. Even if the level of detail may be very high, it always depends on the material to be stamped (burnt). In case of wood, larger spacing of lines is recommended so they do not fuse together (0.5 mm at least). With leather, line spacing could be smaller, down to 0.25 mm, which really is not restricting at all – see the stamping specimen in our Product Gallery.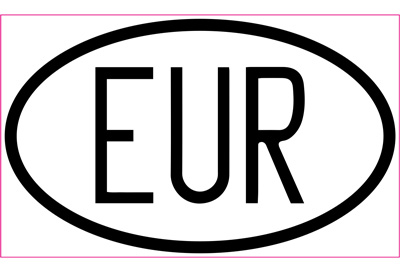 If your data are not in a vector file format, you can send the design in a data raster too - .jpg, .jpeg, .png, .gif, .tiff in a sufficient size (600 x 600 px at least). Data sent in this format must be transformed into a vector file format and hence we will charge you a fee for the work of our graphic designer – based on time requirements (up to CZK 500 as a rule). The larger the picture is, the cheaper the subsequent vector conversion will be. Pictures of a smaller size may only be considered as artwork to create the respective design. The price of graphic work in those cases is set on a case-by-case basis (you will be informed about the price in advance). Multiple colour pictures must be transformed into black-and-white, i.e. all shading, colour transitions and other detail may get lost; it is also possible to go for contour lines and remove all the filling.

If you have no design to provide, you can have your graphics designed by our graphic designer. The artwork may be just a rough drawing or a text description. Our graphic designer's imagination is not limited.
R6 Gas brand stamping device with your own logo design