Product description
An affordable and high-quality professional hot stamping press capable of thermal printing offering both colour printing (gold printing) using hot stamping foils that we offer in great numbers, and colourless hot stamping (burning) that you know e.g. from diary covers (the year embossed in leather) or manufacturing logos burnt in wood. Unlike a manual marking iron, the press offers precise pressure distribution on all parts of the stamping iron in order to achieve an even result of stamping (or foil transfer). Also, the applied pressure is higher with manual stamping irons. The baseplate of the press has a measure (12x14 cm) that facilitates a very precise alignment. If you require high-precision alignment, you can screw the press to a work-top and install backstops that will ensure an identical outcome – there are countless options. The R8 hot stamping press is made of high-quality metal structure with virtually no plastic parts; it is made of genuine metal and aluminium (except of the temperature controller and rubber supports) so that long lifetime is guaranteed. The press head is located on a height-adjustable stand that allows to process items of up to 220 mm in height. The stamping plate (printing block) itself is made of brass. This brass block can be dismounted – hence, you can have multiple printing blocks that can be easily swapped on the press (when cold) – the stamping plate is fastened with a single screw and nut. Any stamping plate can be produced up to the maximum stamping surface of 100 x 80 mm. The level of detail might be very high; it always depends on the material that you want to stamp (burn). In case of wood, it is better to keep greater spacing between individual lines in order to avoid line merging (at least 0.5 mm). On leather, lines can be even 0.25 mm apart which no one can find restrictive at all – see printed samples in product images.
Example of the use: Colourless hot stamping (burning):
In leather – a logo hot stamped into leather wallets, belts, bags, covers, cases, Master's thesis folders and diaries.
In wood – wooden gift cases – for cigars, cigarettes and other items, logos stamped into plank boards (working benches, wooden chopping boards...), decorative wooden plates, wooden tourist tokens and other flat wooden gift items.
In plastic – hot stamping of logos into plastic boxes and flat plastic surfaces, sealing all PP/PVC/PE bags, logos stamped in plexi-glass.
In paper – cardboard boxes (before assembly), gift bags from darker paper, cardboard textile tags and other.
Colour hot stamping (gold printing):
Always using hot stamping foils transferring the bottom foil layer onto a requested material at a maximum temperature of 120°C. This printing is known as gold printing, silver printing, hot stamping or thermal transfer. The foil is transferred only at the points where it connects to the hot contact surface of the stamping iron, with great precision; hence no colour is transferred outside of the stamping iron surface. Suitable materials must be selected for thermal transfer. Hot stamping works best on smooth high-substance paper (e.g. chalk-surfaced paper) with a specific finishing – e.g. glossy or matted lamination. Typically, such paper is used for packaging boxes - perfumes, eaux de toilette, creams, hair colours, alcohol gift boxes, cigarette packs, folders for Master's theses and others. Thermal printing is used for all golden, silver or hologram decorated packaging boxes. It can also be used for gold-plated labels of wine, spirit and other bottles. Hot stamping foil would not work with standard paper without any plastic surface finishing - plastic coating (such as lamination) or local laser printing are a must.
As optional accessory, we offer the R8 press with a hot stamping foil reel-off holder that further facilitates the application of gold printing. The reel-off holder holds hot stamping foils of up to 80 mm in width.
Stamping iron size – discretionary up to max. 10x8 cm (width x height)
Power supply - 230V AC 420W
Temperature settings: 0-400 °C
| | |
| --- | --- |
| Security level | medium |
| Weight | 6 kg |
Manufacturing instructions
The underlying documentation must always be provided in the following graphics file formats (*
.ai .cdr .eps .svg .pdf
), ideally in the exact size of the produced hologram. Mark the logo limits represented by the brass stamping block. It is important to add at least 2 millimetres on every side.
The final manufacturing design should look like the picture below. The areas marked in black stand out and will stamp the design; the white ones will be cut (not stamping). The spacing of individual lines should correspond to the material the graphic design is to be stamped into. Even if the level of detail may be very high, it always depends on the material to be stamped (burnt). In case of wood, larger spacing of lines is recommended so they do not fuse together (0.5 mm at least). With leather, line spacing could be smaller, down to 0.25 mm, which really is not restricting at all – see the stamping specimen in our Product Gallery.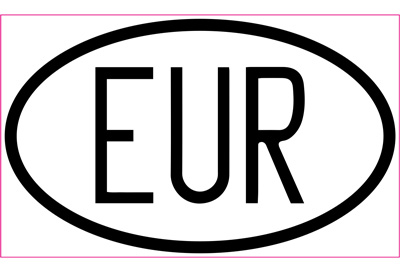 If your data are not in a vector file format, you can send the design in a data raster too - .jpg, .jpeg, .png, .gif, .tiff in a sufficient size (600 x 600 px at least). Data sent in this format must be transformed into a vector file format and hence we will charge you a fee for the work of our graphic designer – based on time requirements (up to CZK 500 as a rule). The larger the picture is, the cheaper the subsequent vector conversion will be. Pictures of a smaller size may only be considered as artwork to create the respective design. The price of graphic work in those cases is set on a case-by-case basis (you will be informed about the price in advance). Multiple colour pictures must be transformed into black-and-white, i.e. all shading, colour transitions and other detail may get lost; it is also possible to go for contour lines and remove all the filling.

If you have no design to provide, you can have your graphics designed by our graphic designer. The artwork may be just a rough drawing or a text description. Our graphic designer's imagination is not limited.
R8 Hot stamping press for thermal printing and stamping 420W - in-house design
An affordable and high-quality professional hot stamping press capable of thermal printing offering both colour printing (gold printing) using hot stamping foils that we offer in great numbers, and colourless hot stamping (burning) that you know e.g. from diary covers (the year embossed in leather) or manufacturing logos burnt in wood.